This small coastal town, home to approximately 150 families, is a coastal paradise that you must discover. Located in the municipality of Sinanché, in the beautiful state of Yucatán, San Crisanto offers you a unique coastal landscape and an unforgettable experience.
Immerse yourself in the tranquility of its beaches, delve into the fascinating mangroves and be amazed by the rich history and culture of this enchanting place.
Exploring natural treasures
Navigate the mangrove channels
One of the most fascinating activities you can enjoy in San Crisanto is a boat tour through the mangrove channels. Accompanied by an expert local guide, you can delve into this unique ecosystem and marvel at the abundant flora and fauna that inhabit it. Discover the exotic bird species, colorful fish and, if you are lucky, you may even spot some crocodiles in their natural habitat. This tour will give you a unique connection with nature and an unforgettable experience.
Salt pans and coconut plantation
San Crisanto is known for its salt and copra production on common land. Join a community tour and visit the salt pans, where you can learn about the traditional salt production process and the hard work involved. You will also have the opportunity to visit the coconut plantation and discover the native products of San Crisanto. Immerse yourself in jewelry and coconut-based cooking workshops, where you can participate in the elaboration of authentic creations and delight in the unique flavors of this tropical fruit.
Activities and Services
San Crisanto offers a variety of activities and services to make the most of your visit:
Mangrove boat tour: Discover the beauty of the San Crisanto mangrove swamp by navigating through its canals. It is an experience not to be missed.
Community tour to the salt pans and coconut plantation: Learn about the salt and copra production process and visit the coconut plantation.
Jewelry workshop and coconut-based cuisine: Learn how to make jewelry and coconut-based dishes, two of the most representative products of San Crisanto.
Lodging in cabins or camping: Enjoy a comfortable rest in our rustic cabins or in the camping area, both located by the sea.
San Crisanto is a destination that offers you the opportunity to live a unique experience, full of nature, tranquility and culture. We are waiting for you to discover all that this wonderful place has to offer.
Discover our tours to San Crisanto
Learn about honey production in Sinanché and visit the mangrove swamp by boat in San Crisanto. Cool off in a…
Immerse yourself in local authenticity
Rustic oceanfront lodging
When you visit San Crisanto, you can enjoy an authentic and close-to-nature lodging experience. Whether you prefer the comfort of a rustic cabin or the excitement of camping by the sea, this place has options for everyone. Imagine waking up to the soothing sound of the waves, stepping out of your cabin and finding palm trees swaying in the breeze and white sand inviting you to step on. In San Crisanto, your dreams of a coastal getaway will come true.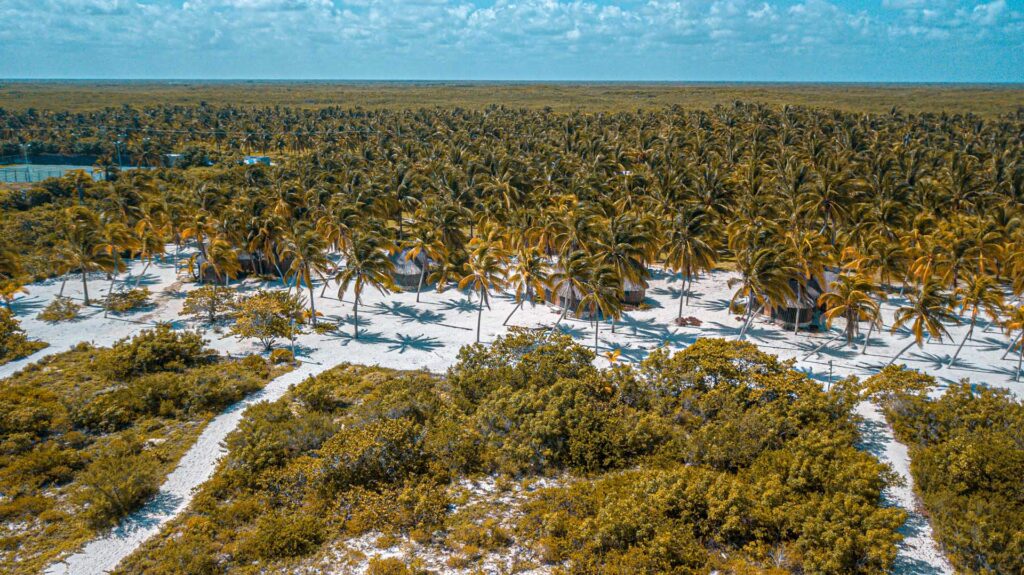 History and community
The history of San Crisanto is a reflection of the spirit and will of those who have inhabited these lands. Since 1974, when the Ejido of San Crisanto was endowed with land, the community has undergone a remarkable process of development. Although this process has not followed a structured plan, the inhabitants and members of the Ejido have worked hard to achieve progress that is evident and congruent with their principles and values.
Conservation and sustainability
In San Crisanto, environmental conservation is a priority. The Community Council of San Crisanto A.C., in collaboration with the San Crisanto Foundation and other institutions, is committed to the protection of biodiversity and the maintenance of the mangroves. Through the "Manglares San Crisanto" Wildlife Conservation Management Unit (UMA), species such as the Morelet's crocodile are monitored, as well as other preservation activities.
Recreational activities for all
In San Crisanto, there is no lack of options to enjoy recreational activities during your vacations or weekends. In addition to relaxing on the beautiful beaches, you can explore the following attractions:
Mangrove and cenote tour
Embark on a fascinating boat or gondola ride through the mangrove swamp, where you will be able to get to know the exuberant flora and fauna of this unique ecosystem. Enjoy the serenity of the surroundings and, at the end of the ride, dive into a refreshing cenote. Swim in its crystalline waters and let yourself be enveloped by the natural beauty that surrounds you.
Bird watching
If you are a bird lover, you can't miss the morning bird watching tour in San Crisanto. Accompanied by expert guides, you will be able to see various species of resident and migratory birds in their natural habitat. Discover the beauty and diversity of the birds that find refuge in this region.
Beach service and ecological huts
Ejido de San Crisanto offers you beach services so you can enjoy a perfect day by the sea. Relax on Zac Ha beach and take advantage of the facilities available to spend an unforgettable day. Also, if you want a unique lodging experience, the ecological huts are the ideal choice. These Mayan dwellings, located next to the beach, will allow you to rest in harmony with nature, feeling the sea breeze and the soft sand on your feet.
San Crisanto awaits you with open arms to offer you an authentic and enriching experience. Discover its natural treasures, immerse yourself in its culture and enjoy an unforgettable vacation, come and let yourself be carried away by the rhythm of the waves of the sea in San Crisanto!
Visit San Crisanto
Don't miss the opportunity to live a unique experience in San Crisanto. Immerse yourself in the tranquility of its beaches, explore the fascinating mangroves, taste the delicious coconut products and get to know the history and culture of this charming coastal community. San Crisanto awaits you with open arms, ready to delight you with its natural beauty and authenticity, come and discover all that this paradise in Yucatan has to offer! Your trip to San Crisanto will be an unforgettable adventure that will awaken your senses and leave indelible traces in your heart.
Related videos