The unbelievable in the everyday.
Tekit is a charming town in the heart of the Yucatán, known for its rich cultural heritage and impressive traditional costumes. South of Mérida and close to the archaeological site of Mayapán, Tekit is an open door to the Maya life of yesterday and today.
A Walk through Mayan Life
Bake sweet bread at the local bakery, visit a guayabera factory, learn about vegetable and melipona bee production in a traditional Mayan solar, and savor seasonal fruit in a citrus grove.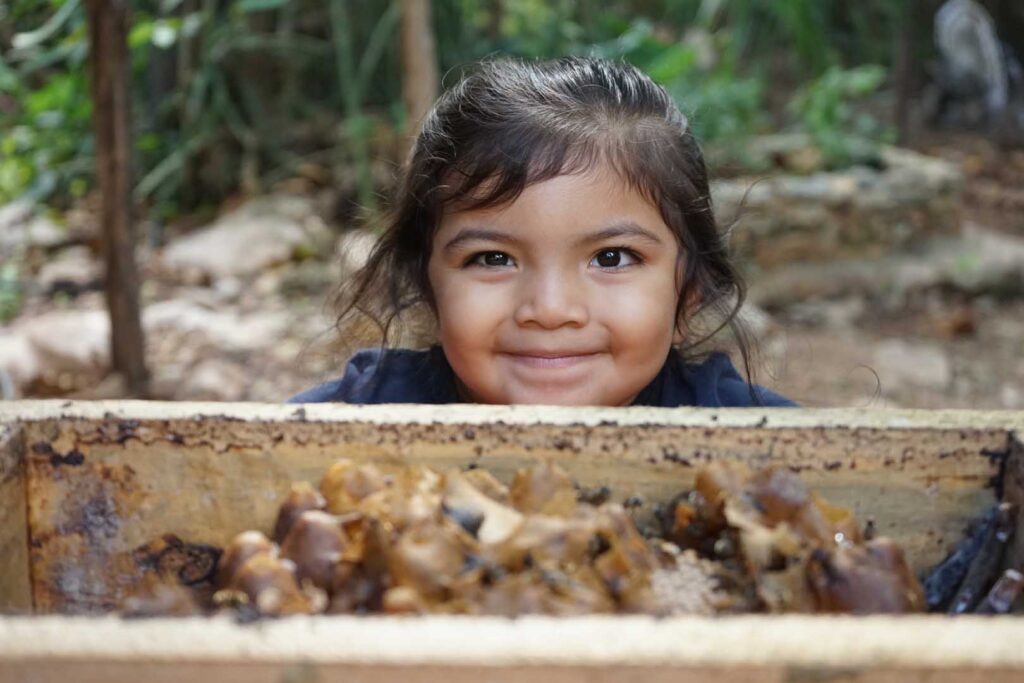 These community tour experiences allow you to delve into the local life of this village, offering a unique glimpse into Maya traditions.
After the tours, cool off in the local cenote, visit the main church, or purchase typical Yucatecan clothing in the stores surrounding the village.
Activities and services
Community tours and workshops
Lodging in local homes
Bird watching
Gastronomic tours and traditional food
Discover our tours to Tekit
Get a taste of Yucatecan daily life on this day trip to Tekit. Bake artisan bread in a stone oven…
Ya'ax Tekit Cooperative: Preserving the Mayan Heritage
The Ya'ax Tekit cooperative, formed in 2017, is a society composed of nine partners who share the vision of preserving the biocultural heritage of their place of origin through community-based tourism.
The cooperative's name, which means "green" in Mayan, reflects its commitment to care for and respect the environment.
The cooperative organizes activities with the local inhabitants, allowing visitors to participate in the village's economic activities, benefiting more than 50 people involved in these activities.
Lodging and Other Activities
In addition to community tours, the cooperative offers lodging in local homes and various activities such as bird watching, gastronomic tours and traditional food.
You can also explore the surroundings of Tekit, enjoy a swim in a cenote or participate in cave tours and spelunking.
The cooperative also offers lodging in a beautiful, tree-lined quinta: "Quinta Marías", where you can rest in one of the three houses, each with unique characteristics.
If you prefer a more outdoor experience, camping is another option for accommodation in a plot of land less than two kilometers from the town.
Gastronomic Tour in Tekit
One of the favorite activities for visitors is the gastronomic tour where you have the opportunity to try traditional Yucatecan dishes such as "Pollo Pibil" or "Pollo enterrado" in Maya.
This experience starts very early in the morning, as participants accompany the cook even while shopping for ingredients at the local market, where they will see the diversity of fruits, vegetables and local ingredients available.
Discover Tekit, Discover Yucatán
Tekit is living proof that the Maya are here and now, through their language, their food, and their daily activities.
Visiting Tekit is much more than a tourist trip; it is an invitation to learn, share and experience the living Maya culture. So what are you waiting for?